Character
REDIRECT

Template:Deadpool VS Patrickstyle

="width: 20%;"| Gallery
Joker is a competitor in Cartoon Beatbox Battles. He first appeared in Pennywise Vs The Joker and beatboxed a variation of the The Fresh Prince of Bel-Air theme and lost.
Appearance
The Joker is a human who has white face make-up with green dyed hair. He wears a purple shirt on top of a green tuxedo, with a blue tie. He wears dark blue pants and dark blue gloves. He wears gray shoes.
He has different colored eyes, with one eye large and green, and one line small and just an outline. He has red make-up lips.
Personality
The Joker is "out of his mind" as he put himself as. The Joker is also never shown to be over-reactive over many things, and is usually seen in a normal state. He can show his true colors, as when he wanted to show Verbal ASE his "magic trick" with a pencil, or when he shot Pennywise in the stomach at the end of his beatbox round.
Coverage
Pennywise Vs The Joker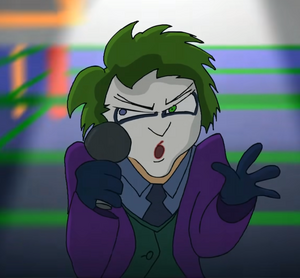 Joker made his first debut against Pennywise in Episode 3. In his beatbox round, he first throws his mic up in the air, which spins around for a while. He then grabs it, and goes upside down. He is then back to normal stance, stating that what he is about to do isn't fair, but he is going to take down Pennywise like all the kids he couldn't scare. The lights go off and he starts beatboxing. He then says "Come on!" beatboxes a little bit and asks Pennywise; "Why so serious?", he beatboxes one more time and he then he makes the light point to Pennywise and pulls out a gopher while calling Pennywise a big clown and making fun of his teeth. He then tells Pennywise if he wants to go inside Joker's mind, he might go blind since he is already out of his mind. He then again says "Come on!" beatboxes a little bit and asks Pennywise "Why so serious?" He beatboxes one more time until now he tells Pennywise since he is a clown he should laugh like this and he then does a laughing beatbox with fake teeth in his hand. He then laughs and shoots Pennywise to end his beatbox round.
Patrick Vs Goofy
Joker didn't have enough votes to beat Pennywise and so he has lost.
Black Panther Vs Batman
Joker is seen in both Black Panther and Batman's beatbox rounds. The Joker first in Black Panther's round is seen with a few of enemies of Batman's. He holds up toilet paper, which is a reference to the part in Pennywise Vs The Joker, when Batman had no toilet paper in the bathroom. He is then seen in Batman's round, in which he tries to catch Batman, until Batman punches Joker out of the ring.
Darkseid vs Thanos
He was saw when Verbal ASE explained Batman's beatbox flashback of the previous episode, but also on Black Panther's one.
Thanos Vs Patrick
Joker is seen telling Verbal ASE that "Why so serious?" is his line, after Verbal ASE asked Thanos on why he was so serious on beating Patrick.
Trivia
Joker is the first DC Comics character added in Cartoon Beatbox Battles. The others are Deadshot, Batman and Darkseid.
Joker was the last character to get his beatbox solo remixed.
Joker is the first villain eliminated in Cartoon Beatbox Battles history.
See also