Black Panther Vs Deadpool is an episode in Cartoon Beatbox Battles. It's the fourteenth episode in Cartoon Beatbox Battles, and the fourteenth episode overall (excluding live episodes).
Votes
Comment likes results
Poll results
Plot
Flashback
The episode starts with Verbal Ase explaining the context of Black Panther Vs Sonic, and promoting his channel before the intro starts. After the intro, Verbal Ase welcomes everyone to the 14th episode of Cartoon Beatbox Battles, and reveals that Patrick will be going on to the Final round. Verbal Ase gives a krabby patty to Patrick, and Patrick says he will eat it now. Verbal Ase tries to continue the episode, but Patrick interrupts him, asking if he could get a krabby patty. Verbal Ase tells him he already gave one to him, and he can even see it on his face. Patrick says he doesn't see it. Verbal Ase closely tells Patrick nobody can see their own face. Patrick responds, saying he can look into his belly button. Inside is Penny Penny from Pennywise Vs Patrick.
Introducing the competitors
Verbal Ase first introduces Deadpool to the ring, who is currently making Marvel cookies. Deadpool grabs a flamethrower and burns them. Verbal Ase asks what he is doing, with Deadpool responding that he's just making Marvel cookies. Verbal Ase states that they're burnt, but Deadpool says that he got the recipe from Thanos. Verbal Ase now knows why they're so burnt. Verbal Ase then tries to introduce Black Panther, but gets interrupted by the Dora Milaje, pressuring him to say his real name. Verbal Ase then introduces Black Panther as T'challa, the king of Wakanda. T'challa asks to prefer to be named as Black Panther. This confuses Verbal Ase because ever since Black Panther first came to the ring, he wanted to be named T'challa. Black Panther ignores this, stating that Deadpool stole Wakanda's salute for their X-Force team. Black Panther asks what even is X-Force, stating it sounds like a high-school volleyball team. Deadpool is then seen with X-Force in volleyball outfits, telling Black Panther that he's gonna get served. Verbal Ase breaks the tension, and lets Black Panther go up first.
Black Panther's beatbox round
Post-Black Panther's beatbox round
Deadpool's beatbox round
Post-Deadpool's beatbox round
Verbal Ase calls Deadpool's performance funny, and then asks what Black Panther thought of his performance. Black Panther first states that he's a panther, and not a pussycat, and second that at least he was in Infinity War, and third off that he will never be as cool as Mario. Deadpool notices Black Panther's obsession with mentioning Mario, and tells Black Panther that the him and Mario should just get a room if he likes him so much. Black Panther takes offense to this, stating it isn't like that, proceeding to throw Mario at Deadpool who just only wanted to watch the performance up close. Mario gets mad at Black Panther and both Deadpool and Mario get in wrestling outfits to fight him. Verbal Ase tries to end the episode, but at the end gets sucked into the fight. Deadpool calls out how lazy the animation is with the fight, giving the viewers eye that they may see the fight, but not know what really is going on. Black Panther shuts him up to continue the fight.
Post-Credits
The ending shows the Cartoon Beatbox Battles Trophy in a display case, being cleaned by a janitor.
Beatbox Solo Lyrics
Black Panther
This is how I do it!

This is how I do it
It's friday night
You will lose this fight
To the king of Wakanda
So I got my ancestors I'm about to turn it up
It's not the first time Deadpool's burning up
Look at his skin, it's faded
He looks like a block of cheese that's been grated
It feels so good, in my hood, tonight
Nobody really wants to be in your side,
Your puny X-Force can't go against my tribe
You gotta get a move on, you know that we don't play
So pack up your stuff, throw it in the truck, while I hear my people say,

I feel the buzz, and it's all because (This is how we do it!)
The Panther does it like nobody does (This is how we do it!)
Forget Deadpool he's got no flavor (This is how we do it!)
He got blacklisted by Mr. Xavier (This is how we do it!)

Wakanda!

Deadpool
Servin' you next time!

I'm here to take out the Panther,
I'm the real romancer,
Is that really your final answer?
Still living like a pussy cat
Yes, I just, dissed you
Your clan did not miss you
I really loved when Thanos snapped you to dust
I'm the merk with the mouth
You're not allowed in my house
You're just like Spongebob, you're a squirrel with no nuts
I'll leave a little bit of something, from me
It's a pepperoni pizza with cheese
Put it all together, and you'll have your Krabby Patty
I'm here to take out the Panther,
I'm the real romancer,
Is that really your final answer?
Still living like a pussy cat
X2
Is he gonna win?

Another one bites the dust!

Cultural references
When Patirck says "I think I'll eat it now" it's a reference to a Season 3 episode of Spongebob called "Life of Crime".
The tree seen during Black Panthers round when he starts freestyling is called The Heart Shaped Tree which is the tree from Black Panther that gives Black Panther his powers.
When Deadpool is seen playing with the Black Panther and Deadpool figures in the background we can see a hat that resembles of Ash's hat from the Pokemon Anime. We can also see a figure of Raven from Teen Titans and Lego blocks.
During Deadpool's round when he kicks Black Panther out of his house, the house seems to resemble that of the Flinstones house and Deadpool is even dressed as a character from the Flinstones that being Fred.
Credits
Performed/Produced
Written
Performed and Produced
Creative Director
Animators
Alex Acayen
Ariel Villar
Joel Sarmiento
Joy Sarmiento
Mace Zosimo
Rovelyn Estibar
Salve Telewik
William Dayo
Anthony Apawan
John Philip Vargas
Joseph Villanueva
Judith Cister
Rey Ibay
Sallie Estacio
Vicky Geronimo
Clean Up and Inbetweening
Adonis Llarena
Bernard Santos
Dennis Maat
Ferds Subala
Jeremiah Ancheta
Marvin Samilliano
Ton Amoin
Lawrence Abriel
Rufino Galgalan III
Mark Arcil Llamera
Armando Wong
Chester John Burgos
Emil Torrecarreon
James Odevillas
Marian Fajardo
Remeo Rimando
Christian Bryan Fernandez
Teddy Cabinta
John Nicolo Aguinaldo
Manolo Bolito
Digital Ink and Paint
Chester John Burgos
Jeremiah Ancheta
Carlo Balaoro
Teddy Cabinta
Bryan Fernandez
Rufino Galgalan III
Romeo Rimando
Sigrid Agdon Rimando
Andrea Anana Arceno
Lawreence Abriel
Manolo Cruz Bolito
Mark Arcil Llamera
Storyboard
Background Artists
John Nicolo Aguinaldo
Mark Arcil Llamera
Stepphine Uson
Ira Claveria Paredes
Scene Builds, Compositing and Editing
Sound Engineer
Special Effects
Manolo Bolito
Anthony Apawan
Production Coordinator
Errors
Multiple frames have spots that appear in a few frames. They appear in either colors of black, blue, or white.
When Deadpool is telling the viewers how lazy the fighting animation was, his arms are still seen to be in the fight despite having them out.
At 5:25, Deadpool at the bottom screen is seen uncolored and roughed out.
Production
On 17/11/2020, Verbal Ase uploaded a new Tik Tok video, showing a possible Black Panther beatbox solo. It can be seen here.
On 02/01/2021, JBrick (Adym's cousin) confirmed on DMs that Black Panther vs Deadpool is halfway done.
On 04/03/2021, Verbal Ase had started a live stream, and at some point shows sneak peaks of the episode, and designs of Black Panther and Deadpool.
On 12/03/2021, Verbal Ase had posted sneak peek of Black Panther Vs Deadpool, showing Verbal Ase and Deadpool being launched in the air by Black Panther landing on the ground. Verbal Ase states in the post that there will be fight scenes between the two, so this could also be a teaser of one of those scenes. [1]
On 12/04/2021, Verbal Ase has stated that the episode is 95% complete.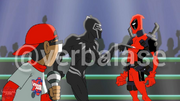 On 15/04/2021, Verbal Ase posted a screenshot on the Verbal Ase Official discord server.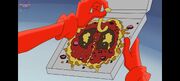 On 18/04/2021, Verbal Ase sent a picture of what seems to be Deadpool picking a piece off of Deadshot's melted pepperoni pizza from Deadpool Vs Deadshot.
On 30/04/2021, Verbal Ase made a community post and stated that the premiere date will be announced soon, he also said "We're finally close to the finish line, should be another week before things are finalized." [2]
On 16/05/2021, Verbal Ase stated in his 2nd meme react video that the episode is 98% complete.
On 21/05/2021, Verbal Ase stated that he sent a message to the lead animator asking for a date of completion so he could announce the premiere date.
On 30/05/2021, Verbal Ase announced the release date of Black Panther Vs Deadpool at June 4th.
On 02/06/2021, Verbal Ase announced that the episode would have to be slightly delayed due to late delivering. We know how this turned out.
Trivia
This is the first CBB where both competitors are from the same company; in this case, Marvel Comics.
This is the final episode of the Quarter-Finals until the winner fights Patrick in the Season Finale.
No matter who wins this battle, all 4 rounds will have contained a Marvel character participating in it.
This is the first episode in 2021.
With Pennywise losing, there are no more villains left.
This is the second episode where one of the competitors, in this case, Black Panther, in the battle is only 2 episodes apart from their last battle with the first being Pennywise in Pennywise Vs Patrick.
References
See also
Community content is available under
CC-BY-SA
unless otherwise noted.